Are you struggling with Algebra 1 or looking for a tutor to help with online algebra 1 homework? If so, you have come to the right place! In this blog, we will be covering what to look for in a great algebra 1 tutor, how to get started with tutoring, the benefits of private tutors versus in-person classes, tips, and strategies for online math courses, and homework help. We will also be discussing the "aha moments" that an algebra 1 tutor can help you to master the equations and concepts in your math class.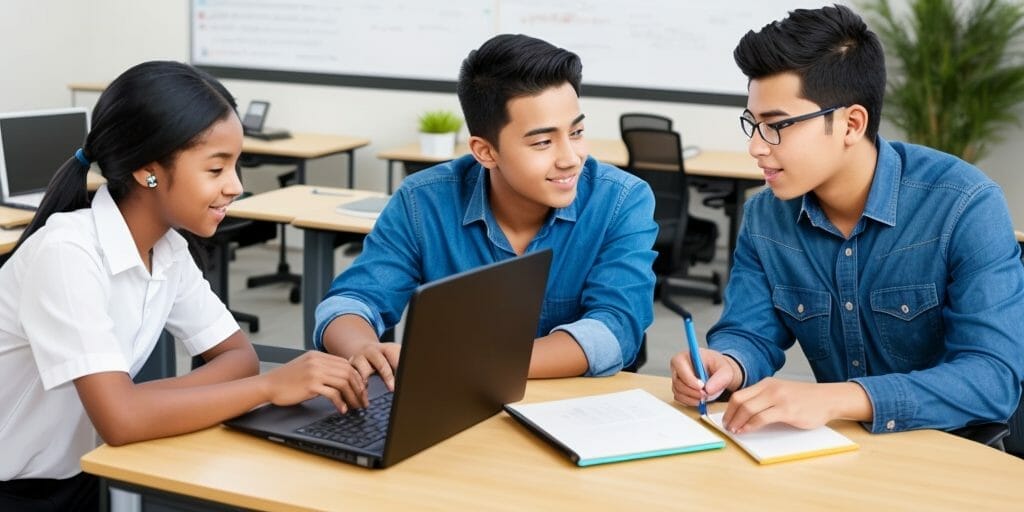 Welcome to Goodman Prep, the best place to find top-notch Algebra 1 tutors! Are you struggling with Algebra 1 concepts? Do you feel like you just don't "get it"? Do you need help raising your grades and feeling more confident about your mathematical abilities? Look no further!
Our Algebra 1 tutors are experienced, knowledgeable, and passionate about helping students succeed. We have a proven track record of taking students from Cs and Ds to the highest marks in their class exams. Our tutors know how to break down complex problems and make them easy to understand, no matter your skill level or learning style.
But it's not just about getting good grades – we want to help you fall in love with math! Our tutors are great communicators and motivators who understand how to make math engaging and enjoyable. You'll be amazed at how quickly you start to see progress and feel more confident about your mathematical abilities.
Don't wait – start getting the help you need today! Contact us to schedule a session with one of our incredible Algebra 1 tutors and start your journey toward success in math.
Algebra
Associative
algebra
Non-associative
algebra
Lie
algebra
Composition
algebra
Hopf
algebra
C*-
algebra
Symmetric
algebra
Exterior
algebra
Tensor
algebra
In measure
What To Look For In the Best Algebra 1 Tutor
Finding the perfect Algebra 1 tutor can be a challenging task for any student. While there are many qualified tutors available, it can be difficult to know which one to choose. However, with the right selection process, any student can find the right tutor for them.
To begin with, it is essential to find a tutor with sufficient experience in Algebra 1. Many tutors have several years of tutoring experience, while others may specialize in a specific math subject like algebra 2 or college algebra. In addition, it is essential to ensure that the tutor you are choosing has experience in teaching math to students at your grade level. They should be knowledgeable in school math and have tutoring experience for the grade math level you are looking for, whether it's middle school math or high school math.
Another factor to consider is the teaching method used by the tutor. A great math tutor should have a flexible approach to teaching and should be able to adapt their methods to match the learning style of their student. They should be able to provide algebra 1 help on a wide range of topics, from elementary algebra to calculus, and should be well-versed in solving math problems. Moreover, a great tutor should be able to help their students feel confident in their abilities and make algebra easy to understand for them, especially for students who struggle with math concepts.
In conclusion, finding the right Algebra 1 tutor requires patience and thorough research. You should consider the tutor's tutoring experience, their teaching style, and their ability to help you understand math concepts. With the right tutor, you can improve your math skills, pass your math class, and feel more confident in your math abilities.
How To Get Started With Online Algebra 1 Tutoring
For students struggling with Algebra 1, online algebra tutoring can provide a convenient and effective solution. With the flexibility to learn at their own pace, students can receive algebra help anytime and anywhere. In addition, students can learn from experienced math teachers who have many years of experience in tutoring students at the high school and college level.
To find a tutor that is right for you, start by doing some research. Look online for reviews of tutors in your area and read about their qualifications and experience. It's also important to consider what topics are covered in online tutorials and what type of tutoring style they use. Some tutors prefer a more hands-on approach, while others prefer a more lecture-style tutorial.
Once you've selected a few potential tutors, make an appointment to meet with them so that you can discuss your needs and pick up where the last session left off.
During your first session with the tutor, be sure to bring all of your homework with you so that they can go over it together. This will help both parties stay on track and ensure that everything is covered properly during the sessions.
Make sure to schedule regular sessions so that progress can be made quickly.
Also, search for "Online algebra 1 tutors near you". This can help you find tutors that offer a wide range of math topics, from algebra 1 lessons to more advanced concepts like algebra ii and calculus in person. They can teach you how to solve algebra problems, work with positive and negative numbers, and provide math help on a wide range of topics. Tutors can also help you prepare for the SAT math exam and give you the skills you need to excel in high school algebra 1 and intermediate algebra.
Whether you're good at math or struggling with algebra, online tutoring can provide the help you need. Tutors today use online classrooms and a variety of teaching methods to help students learn in a way that works best for them. They can help you understand math concepts, develop your understanding of math, and help you prepare for future math classes. In short, tutoring allows you to become an algebra expert and can provide the support needed to succeed in algebra 1 and beyond.
There are many advantages to using tutoring services. Not only can you get help from a tutor who is experienced and knowledgeable in the subject, but you can also get help at your convenience. You don't have to miss class or spend hours studying on your own – you can take advantage of online tutorials and get the help that you need right when you need it.
Tips For Choosing The Right Algebra Tutor For You
One important aspect is finding a tutor who is ready to help and has a track record of successfully helping students learn algebra.
Another factor to consider is the tutor's qualifications, such as where they studied Math/Science or other related fields, their experience in teaching math, and any certifications or licenses they hold.
Additionally, you should look for a tutor who is comfortable working with students at your level, whether you're a high school student, a college student, or just looking to refresh your math skills.
It's also important to find a tutor who is able to help with specific areas that you may be struggling with, such as problems in algebra, and who is willing to help you understand the material in a way that fits your learning style.
If you're taking a college algebra course or have taken previous courses, it may also be beneficial to find a tutor who has experience in those areas.
Finally, if you need extra help preparing for a math placement test, it's a good idea to find a tutor who can help you feel confident in your abilities and prepare for the test.
By keeping these factors in mind and doing your research, you can find an algebra tutor who is prepared to help you understand algebra and succeed in your math studies. Whether you're looking for a new tutor or considering working with a tutor for the first time, these tips can help you choose the right tutor for you.
The Benefits Of Private Algebra 1 Tutors Vs. In-Person Classes
Private tutoring can be a fantastic solution for those who are seeking targeted instruction. Whether you cannot attend in-person classes, need assistance with specific topics, or require extra help, private tutoring can provide you with the one-on-one attention you need. Private algebra 1 tutors are well-equipped to assess your understanding of various topics and quickly provide personalized guidance and feedback.
Another great benefit of private tutoring is that it provides accessible help from any location, whether you are at home, in the office, or on vacation. This level of flexibility and convenience is particularly valuable for those who are pressed for time and need help during busy periods. Additionally, private tutors are experienced professionals with extensive knowledge of mathematics, which can help students gain a competitive edge and achieve success in their math classes.
Private tutoring also provides a safe and supportive learning environment that fosters greater confidence in the subject. Students receive individualized attention from their tutor, something that can be challenging to find in traditional classroom settings. Furthermore, private algebra 1 tutors can provide additional challenges to students outside of a conventional classroom setting, providing opportunities for more rapid skill development. Whether you need extra support, are struggling with specific concepts, or are looking for a competitive advantage, private algebra 1 tutoring is an excellent option worth considering.
If you're ready to get started, make sure to check out the Algebra 1 Tutors at Goodman Prep today, and confidently try your first class with our Money-Back Guarantee. If you're not satisfied with your first session, we will refund your money! Simple as that, So reach out to us and find out why the Goodman Prep method is highly rated among the best in the industry.
Tips And Strategies For Online Math Courses & Homework Help
There are a lot of different online math courses and homework help options available nowadays, and it can be hard to decide which is the best for you. That's why we're here to give you some tips and advice on choosing the right course or tutor.
First, it's important to find a course or tutor that matches your level. If you're starting from scratch, then a tutor might be a good choice for you. However, if you're struggling with an existing math course or a homework assignment, then it might be best to try a more advanced course. There are also hybrid courses that offer both online and face-to-face tutoring, in case one type of instruction is more suitable for you than the other.
Once you've found the right course or tutor for you, make sure to take advantage of technology when engaging in tutoring sessions. This way, there's less chance of missing important information due to a lack of communication between instructor and student. Additionally, using technology makes it easier for students to track their progress over time and stay accountable for their learning goals.
Finally, staying organized is essential when studying for math tests or quizzes. This means creating study schedules that reflect what material will be covered on each test/quiz, as well as keeping track of individual assignments so that they can be easily referenced later on. Having a mentor who can provide feedback and encouragement is also helpful in staying motivated while studying mathematics; however, being able to find an accountability partner who will hold you accountable is even better! With these tips in mind, learning algebra should be much easier – no matter what your level – thanks to online math courses & homework help!
Finding The Right Algebra Tutor For Successful Learning
There are a number of benefits to hiring an online tutor, such as the ability to work at your own pace and receive quick and accurate feedback. Additionally, many online tutors have extensive experience with algebra and can help you simplify complex equations. This can make learning the material much easier and more fun.
To find a good algebra tutor, it's essential to look for skills that will help you succeed in the class. For example, a good tutor should be able to provide helpful insights into equations and help you understand how they work. They should also be able to provide detailed feedback on your homework assignments so that you can correct any errors immediately. Finally, an experienced tutor will be able to tailor their approach specifically to your needs so that you retain the information better and are more likely to pass your exams with flying colors.
Engaging with an accredited, experienced tutor is one of the best ways to achieve success in algebra class. Not only will this help you understand the material better, but it will also improve your confidence when taking exams. By getting personalized support from a skilled individual, you'll be sure that everything is going as planned – making learning algebra a much smoother process!
If you're ready to get started, make sure to reach out to us today!
Aha Moments How An Algebra 1 Tutor Can Help You Master The Equations And Concepts
Algebra is one of the most difficult subjects that students will face in high school and beyond. However, with the help of the right tutor, it can be an enjoyable and successful experience. Working with a tutor can be a great way to streamline your learning process and achieve your goals. Here are some of the benefits that you can enjoy by working with an online tutor:
You will have access to a variety of strategies and techniques that were not available to you in class.
You will be able to fully understand algebra 1 concepts, which will increase retention rates and help you learn more quickly.
You will have more time to explore topics that interest you, which leads to a better understanding and absorption of information.
Your tutor will be able to provide feedback on your homework so that you can improve your skills quickly.
Finally, working with a tutor can give you confidence and self-esteem when learning new material – something that is essential for success in any subject.
Problem-Solving Strategies For Algebra Questions
Algebra is a challenging subject, and students can often find themselves struggling with difficult algebra questions. However, with the right strategies, these problems can be easily solved. In this section, we will outline some of the strategies that you can use when solving algebra questions.
Before starting, it is important to analyze the problem carefully. This will allow you to break it down into manageable steps that you can understand. Once you have a better understanding of the problem, you can start to identify patterns in the equations and investigate the properties of numbers. By doing this, you'll be able to solve the problem more quickly and with less difficulty.
Another helpful strategy is to visualize solutions to problems. With graph theory at your disposal, you can see how various solutions interact with each other and come up with a better understanding of how the equation works. Additionally, visualizing solutions allows for easier deductions from data – something that is often necessary for algebraic problems.
Finally, it's important to apply scientific methods when approaching algebra questions. By using experiments and data analysis, you'll be able to verify or disprove hypotheses about equations and solutions more easily. And lastly, always check your answers against an inverse operation in order to ensure accuracy – something that many students forget to do!
Finding the Right Algebra 1 Tutors at Goodman Prep
When it comes to finding the right Algebra 1 tutor, several factors must be considered. One of the most important is experience. You want a tutor who has a solid foundation in algebra and a proven track record of helping students improve their grades. Look for someone who has several years of experience tutoring Algebra 1 specifically, and who has received positive reviews from previous students. You can see all our tutors, and reach out to us to find more info. Just fill out the form at the bottom of the page and we will get back to you ASAP.
When searching for a tutor, you should also consider their teaching style. Some tutors prefer to use video conferencing software, while others use a shared whiteboard platform. Find a tutor who uses a method that works well for you, and who is willing to adjust their teaching style to match your learning needs.
What to Look for in an Algebra 1 Tutor
In addition to experience and teaching style, there are several other factors to consider when choosing an Algebra 1 tutor. Look for a tutor who has a strong foundation in mathematics, especially algebra. They should be able to explain concepts clearly and help you solve problems in a step-by-step manner.
Another important factor is availability. Make sure that the tutor you choose has a flexible schedule and is available when you need them. Additionally, look for a tutor who is willing to work with you on a long-term basis, as this can help you build a strong foundation in Algebra 1.
Tips for Success with an Algebra 1 Tutor
Once you've found the right Algebra 1 tutor, there are several things you can do to get the most out of your sessions. One of the most important is to come prepared with questions and topics you need help with. This will help you make the most of your time together and ensure that you're addressing the areas where you need the most support.
Another tip is to practice regularly. Algebra 1 can be challenging, but the more you practice, the easier it will become. Your tutor can provide you with practice problems and help you work through them, which will build your confidence and improve your skills.
In Conclusion
In conclusion, selecting the right Algebra 1 tutor can be a daunting task. However, with the help of this blog post, we have outlined what to look for in a great tutor, how to get started with online Algebra 1 tutoring, the benefits of private tutors versus in-person classes, and tips and strategies for online math courses and homework help. With this information in mind, you can make an informed decision when selecting your tutor or online course. Don't wait any longer – get started today with an Algebra 1 tutor who can help you succeed!